Why choose Mayafriends?
Mayafriends use local knowledge and international support to make a sustainable effort in the mayan community.



Contact Info
Tel: +47 33 45 20 12
Mob: +47 45 20 59 97
Org.nr.: 998 762 227
Bank account: 2500.23.03690
IBAN: NO23 2500 2303 690
SWIFT/BIC: ANBUN021






Webdesign - © Mayafriends 2012
About Mayafriends organisation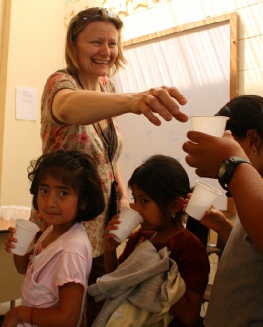 Mayafriends leader Marit Grimsrud helping with deworming in Antigua.
Mayafriends is a non-profit organisation, without religious or political ties. Our funds are for the sole use of the group's charity work with the Mayan people of Guatemala. The Maya suffer great suppression in the region, and often carry great traumas after years of persecution. We dedicate our time, effort and knowledge in order to aid, help and relieve some of the great problems and struggle they face in this great country of culture, tradition and wisdom. We wish to aid, share and create an environment of self reliance, where people can lead worthy and dignified lives, free from poverty, fear and suppression.
Our great friend and Mayan shaman, Viktor Chavarria, himself an indigenous of Guatemala, has dedicated half his life to helping the underprivileged in his country. We endeavor to support and help him in his dedication and work, by financial means as well as by collecting clothes, shoes, blankets and other donations to be sent across for distribution. In addition we will also facilitate introductions to the relevant people and organisations for potential, hands-on volunteer work, with Viktor and his partners in Guatemala.
While our aim is to provide help for all who need it, our current priorities revolve around children, the elderly and single mothers. Our main areas of focus are on education, health and dignity. Dignity is important, as we feel this is the basis of all human progress, especially in getting us to understand how valuable each one of us are, as individuals and within our communities.
About Viktor
Indigenous Maya, and shaman Viktor Chavarria, is a full time leader of the organization Friends of Friends in Guatemala. He dedicates most of his time to helping the poor and underprivileged in his country.
He's also a master in the field of healing, personal and spiritual development, and travels the world as a speaker and teacher, as well as being involved in peace work around the globe. He openly and humbly shares of his wisdom, really lives what he teaches, and is an inspiring example of how a life of service can be actualized and lived. He has met, worked with and learned from many great personalities in his work and travels, amongst others the Dalai Lama. The vast majority of all income Viktor accumulate through this work goes directly to funding his projects in Guatemala.
Click on You tube link for more information.